Tuesday, January 27, 2009
I despise naming posts "update". It's redundant, generic, unimaginative (unlike this post's title, also I'm not claiming to be imaginative, on the scale of 1 to 10; 1 being completely off the chart un-fraking-imaginative and 10 being psycho-killer imaginative I'm somewhere close to 4.5, bestowing the title "update" on any post would be straying away from average 4.5 towards the black hole of imagination that is 1) and sloppy. However, I despise not naming posts more so "update" the post must be named.

Why the Fraking hell was there no new posts.
Despite the appearance of spontaneity and stream-of-consciousness, posts are all planned as consistent with a (self-rated) score of 4.5 on the (self-made) imagination scale unless they're not planned. I started to write many posts and then they always ended up having one or several of these factors:
- Too personal
- Involved information related to work
- Too boring
- Too crazy
- Too sloppy
So those never see the light of the day. Fact: this post almost ended up not being published because of the last reason. Since I'm in the mood for sharing today, here's picture of 2 pages of my diary entry for today. I had to censored out the boring stuff (black), the work-related stuff (blue) and the personal stuff (red).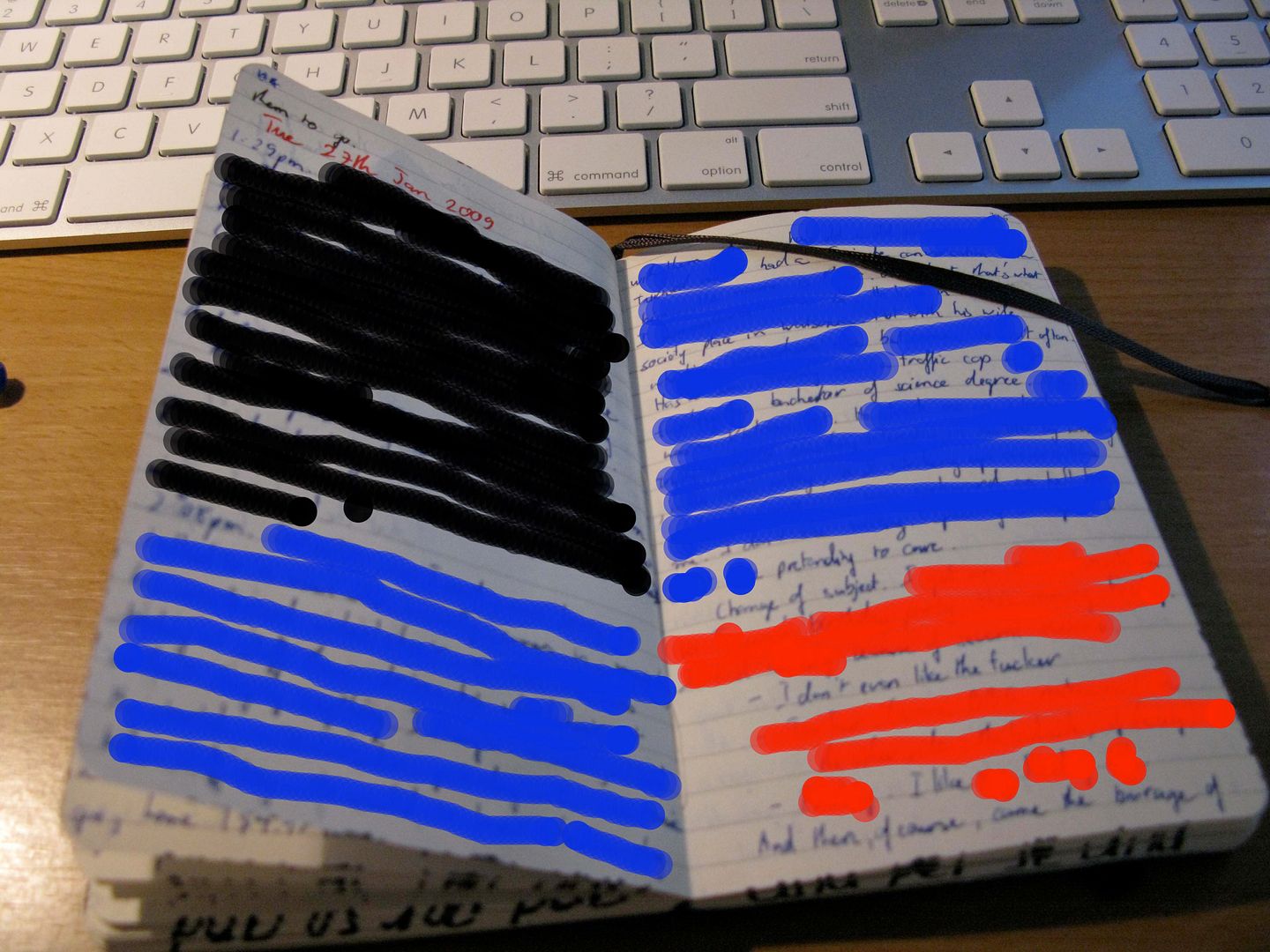 See how much I have left after that? Not much. And they don't look too coherent either, a drunken stream-of-consciousness would have been more coherent.
The other reason why I haven't been posting was because I've recently had this bout of compulsive diary writing as evidenced in the above picture. All kind of things ended up in my diary, usually just thoughts and interesting things I overheard, things too personal (to be posted on this blog at least). You might see me write in in one day because it goes everywhere with me.

Where the hell are the one picture per day posts?
I'm no photographer. I don't go out quite enough. I don't like taking picture of people and especially posed pictures. I don't like being in pictures. I don't post pictures with my face or anyone I know personally on this blog (or face-fucking-book either. Fact: there was a post about the evil of Facebook which was deemed too crazy to be published). So there's a limited number of pictures I can procure. Lucky for you since certain people dragged me out of my room, which increasingly looks and feels like a bat cave recently, on several occasions, you're gonna see a few new pictures in the not too distant future. After I've mustered enough patience to do a few touch-ups & sit through the upload process.