Tuesday, October 14, 2008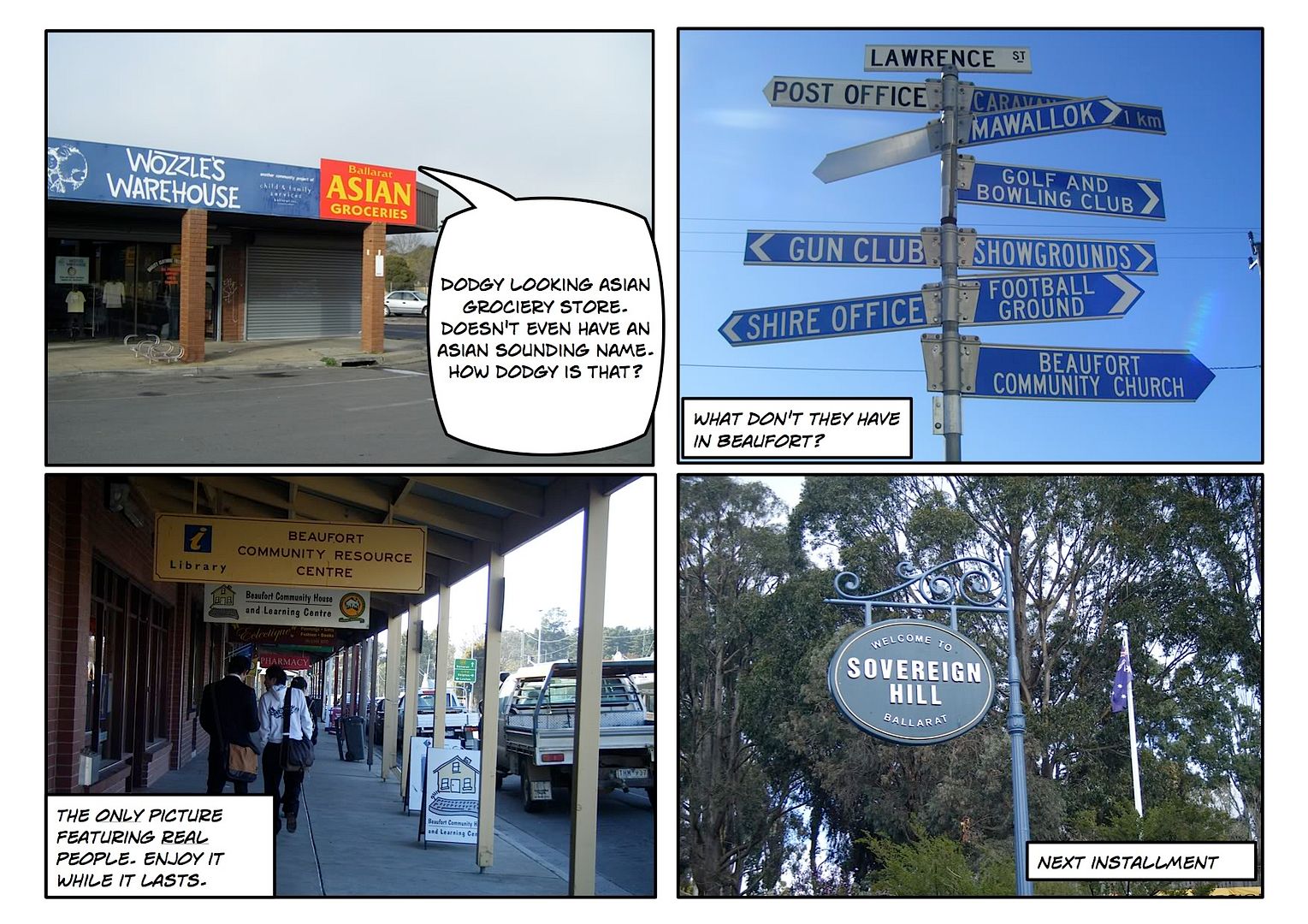 Here I go getting the story on record as vague as I can. For the tell-all version, you'll have to find my other blog which I doubt you can so you're gonna have to make do with this version.

On the scale of unpleasantness writing a blog post right now is slightly a little less unpleasant than studying. On the same scale of unpleasantness, I don't know where the whole 3 weeks of Ballarat would be. It depends on what side of the bed I get up on each day. My feelings regarding those 3 weeks range from rather bleak to "hey it's over" (which is such a cop-out kind of feeling).

The worst of it was finding out what you thought about a certain situation/place/person was fucking spot-on. Somehow confirmation of what was in my head, the absolute worst thing that I thought could happen, actually made it worst. I tend to think in a sort of worst-case scenarios so when slightly less-bad scenarios happen I can at least say to myself "well, at least it's not the worst thing that can happen". I thought if the worst-case scenarios ever become reality I would say, in my usual outwardly nonchalance, to myself "hey, you've lived through the worst, there's nothing worse", except, maybe, that happening again.


Lesson learned no. 1: do not ever try to confirm the worst.

If you know me, I'm not a big fan of confrontations. I don't go looking for them, I ignore them if they pop up, I even go as far as accepting responsibility even if it isn't actually my fault. All in the name of keeping the peace. On a good day when I'm puffed full of my own importance I would say I was being noble. On a bad day I would say I was being a coward. On a normal day I would not acknowledge that I have two rather polarised positions on the same issue, which, unsurprisingly and ironically enough, brings us back to my avoidance of confrontations even self-confrontations.
Lesson learned no. 2: be less noble or grow a spine, start looking out for your own interests instead of other people's.
This is kinda related to lesson no. 1 and 2 for that matter, I had a recent conversation with a friend whereupon the questions "When did you realise that a certain situation/person can be like that? Didn't you already suspect that something like that can happen?" were asked. My replies to those would be "a long time ago" and "yeah". What I thought was only my opinion and people's opinions can differ greatly. Fuck it, even my own opinions on the same thing can differ greatly. I usually shelf my opinion until someone else voiced a similar view. I don't know why I need to validate my own opinion that way. Maybe it's because I'm not quite comfortable with feelings that are not the norm. Or maybe I just don't want to think the worst of every situation/person, I'm already cynical, I don't need to be more cynical.
Lesson learned no. 3: what you feel is absolutely perfect even if it's not the norm.
In regards to the lessons learned, I think that the whole trip was quite illuminating, how else are you gonna learn if you don't make a mess of it? The same cannot be said for lesson no. 4 which I did learn in those 3 weeks.
Lesson learned no. 4: I don't think I've been doing number 2 correctly.
There, I hope this post explains something or maybe nothing, I know it doesn't really tell you what happened and there's the whole introspective self-centred ramblings going on (introverts are self-centred I tell ya, all the things that are wrong have got to have something to do with them) but that's all you're gonna get here.