Tuesday, February 12, 2008
I just felt compelled to post another post so that my post count can go up to 333, only half evil.

OK, so what's going on? Been working, the amazing thing that happened when I started working was that I lost all impulse to buy things. When I don't have money I want to buy lots of things, when I do I don't wanna buy anything. All in all it's a good thing.

How's work? Well, it's work, I spent most of the time in competition with the customers to see who's gonna be the first to say "Hi, how are you?". It's ridiculous really because they always say "I'm well thank you" then proceed to tell me they have this horrible migraine that kept them from sleeping. What kind of "well" is that? How about me? I'm well thank you, well, apart from losing all of what little motivation I have to do anything productive I'm very well.

So what I really feel about my job is that it can do with a lot, a LOT of excitement. I don't hate it, especially after I've seen this picture.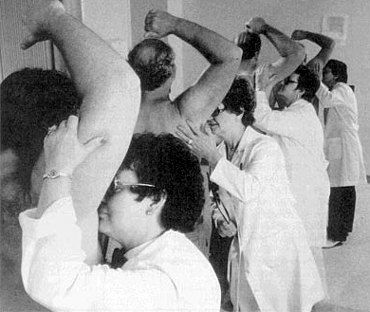 So You Think Your Job Stinks
Yup, there definitely are worse jobs.
Something quite hilarious did happen to me, albeit not on the job, someone called me a "faggot" the other day. That was interesting, I've never in my life expected to be called a faggot. Who would call someone they don't know, whom they have never seen before in their live, names, that can't even be applied since last time I checked I don't have a Y chromosome? You know the answer: stupid freaking idiotic idiots. Pardon the redundancy, I wanted to express the frantic eye-rolling-inducing effect these idiots had on me. At the time I wanted to give them the finger, but I didn't, I'm just
chicken
civilised like that. I had a good laugh afterward though. Idiots.
How's your holiday going so far? I guess since you take time to read this you're probably bored out of your brain right? I can understand, if I had other things better to do I wouldn't read this anyway. Good news for you is that since you've made it this far down the post, here's a little something something for you: another ten-song mix. You know the drill, download and unrar. How was the last mix? I know a whopping number of people downloaded it. Three to be exact. Count that, 3, you can count it on one hand! (sorry about the sarcasm, I've been reigning it in at work so now it just busted out when I'm off work).
Download
And last but not least, funny quote of the week (the Alarmist thought it was funny).
You know why you should not buy a MacBook? Because you're not gonna be able to cope and you're gonna have to ask me to help you and I won't have time to do that.
-
Me dispensing wisdom on laptop choices to the Alarmist
.
________________________________________________
I used to dream about saving the world
Now I just dream about the holidays