Saturday, September 01, 2007
So I've been suffering from blogger's block. Ok, I'm over-dramatising this, as if blogging is like writing a book, you're only writing about your life. Anyhow, I haven't been writing very regularly but still much more regular than when I study for exams. So today I decided to do a post one something. Here are my possible ideas:

A review of The Bourne Ultimatum

A post about The Boy Who Cried Overshot

A rambling about how Atheism is the new "in" thing

Link to the new Britney Spears' single

I thought that none of those would work out fine so I didn't write anything about them, but now that I've typed up the above list, some are quite good actually. Ok back to the point of this post. I was out of ideas (or so I thought), what do you do when you're out of ideas? You go to some random idea generator to generate um... ideas. That's what I did. I went to
this site
, I went in looking for ideas, I left without even an idea but with maybe some understanding why people like to throw their money into poker machines.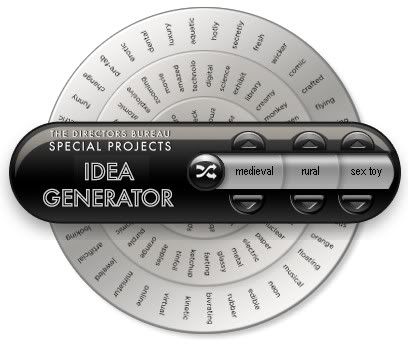 The first lot of randomly strung together words I got was:
expensive temporary food
. Huhm, this can work out, I can write about expensive food that only satisfy your hunger temporarily, you know those fancy restaurants that serve tiny morsels of food? I can write about that, in fact I think I just did. This would be the length of the post, this paragraph.
The second lot of words:
exclusive tubular instrument
. Yeah right, the only thing that's remotely tubular within my sight is a glue stick. Next.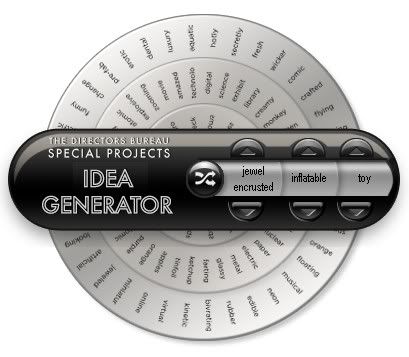 That's when I got in a row:
jewel encrusted inflatable toy
,
erotic holographic apparatus
and
medieval rural sex
toy
. Am I the only one who thinks that this "random" word generator is awfully randomly sexually oriented? That was when I thought to myself that it would be great if this generator can "randomly" generate the phrase "jewel encrusted erotic sex toy". I believed that it could so I embarked on clicking the shuffle button until I got the result I wanted. The closest I got to my goal was this.
It took ages and ages to finally arrive at the above phrase. But the result was sort of satisfying, which is why I said that I understand why people would want to gamble. Money falling out of a poker machine would probably be much more satisfying than getting a phrase that you want. After I got that I realized that you can choose the phrase yourself by clicking on the arrows
above and bellow the words. Duh!