Sunday, June 25, 2006
So I've disappeared from this blog for a few days. It's no big deal. I was in yet another marathon session of Dark Angel. Oh, how I love the holiday. Anyway, it's time for another of my atheist rants, so if someone found my rants offending please don't read any further.
First off, I must say that God does not exist. Full stop. Can I prove that he doesn't exist. No. Can anyone prove that he does? No. So what's wrong with not agreeing with everyone else? What's wrong in not believing in what I think is a made up fairy tales for adult? There, I've said it, god is a made up fairy tale character, a figment of some person's imagination, a mass delusion.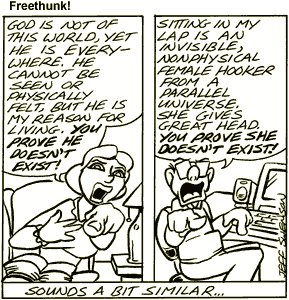 So why then is there life on Earth and not on Mars you might ask. Well, that is the result of a rare coincedence when our planet was just lucky enough to be not too close and not too far away from the sun. So strictly speaking, if the sun hadn't been there, there wouldn't be any life on Earth at all. We should really go worship the Sun, the sun deserves that a lot. Let's all convert to pagan and be natural.
I'm sure not many people will that what I said seriously so I won't hold my breath for anyone converting to pagan. In the mean time, here's something for you to consider.
Why can't we wait until we get to Heaven to worship God?
What is the purpose of prayer? What can a finite being on Earth possibly tell an omnipotent, omniscient deity that he doesn't know already?
If God has a plan for you, and his plan cannot be thwarted, do you really have a free will?