Thursday, May 11, 2006
I know i've been posting A LOT about this hype even though I don't even like it. But hey, all I can think about at the moment is how ridiculous this whole hype is about. If people really want to diss the Catholic church, there are definitely more creative ways to do so than just rushing to the bookshop/library to grab a copy of this book or rushing to the cinema to see this movie.
Having said that I don't actually like this book. I am still going to see this movie. Don't get me wrong. It's not because I can't resist the damn hype. The main reason why I even go to see this catastrophe of a book is the main actress. I love Audrey Tautou. I love Amelie and hence I'm gonna go see her in just another movie.
Since the post title is "more da vinci madness" here's what I'm talking about. Found this in the Target catalogue this week. Even interests in Da Vinci himself rises with this book. Damn.
This next picture isn't very new. Last Friday, mX, a free Melbourne newspaper, devoted 4 pages to the Da Vinci Code movie. A bit over the top actually.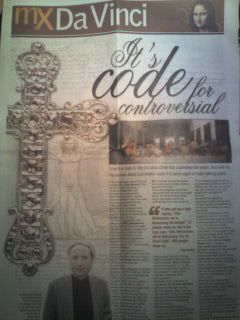 And I forgot to mention, for the people who hates reading books, there's an alternative to all the unauthorised guides on the Da Vinci code. Behold, the da-vinci-related DVDs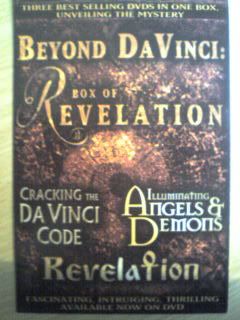 God. I promise I will not say anything more about the Da Vinci or Dan Brown or about any code anymore. I'm sick of typing Da Vinci all the time.